Archive for category Gaming: PC
Going to start a section of the blog called 'The Casual Gamer'.
I have been mulling over the idea of writing about the games(video mostly, but interested in some tabletop and card games) I play. I see a casual gamer as the person who plays when they can, as a stress relief or to burn small amounts of free time. There will be the occasional bender as real life allows, yet the casual gamer is far from the stereotype. This is not the child yelling for chocolate milk or the man living in his parent's basement, covered in Cheetos dust and playing non-stop.
I've talked about gaming here before, but it has always been spotty and at times incoherent. There are the posts about what I was playing at the time, half-hearted attempts at reviews, and one or two rants thrown in there.
My hope here is that this new type of post will be different. That is the hope, anyway. The reality of it all is much different, as seen in past grandiose ideas. But what is life without grandiose schemes and ideas that end up falling on their face? Successful….oh yeah….that's what life is without the falling down part…… <.<   >.>
There are also ulterior motives baked into this half-baked idea (it can be called pudding if you want!). If I can stick to it, my writing and communication skills will improve. That is the major benefit I see coming from it. A secondary, and quite possibly awesome outcome, is that a small time gaming site will like 'the cut of my jib' and let me do some freelance reviews along the same casual gamer line.
So, the tl;dr version is that I am going to play more games and write about them, land a posh gig writing about them and then build a giant vault in the middle of town which will allow me to swim around in all the monies I will be raking in.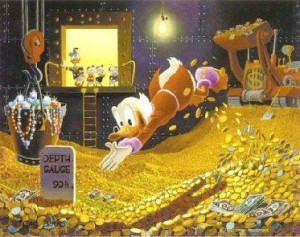 In all likelihood though, this won't go anywhere. And I'm okay with that.
On a final note…it is not a coincidence that this endeavor falls upon November 1st….the same day that NaBloPoMo kicks off. And yes, I am taking another crack at it. My money says I'll fail by the 8th
this year!